WANTED :

DREAMERS, SEEKERS, WANDERS, AND WARRIORS
LEVERAGE THE POWER OF ADVENTURE TO UNLEASH YOUR GREATEST POTENTIAL.
Backpacking and living in Costa Rica, traveling and surfing the most sought after waves in the world, skydiving, bungee jumping, mountain climbing, endurance racing, facilitating adventure challenge experiences, and being mentored by Influential Leaders and Global Icons.
After spending a decade working in an unfulfilling career, suffering burnout and depression, financial hardships, bankruptcy, loss of a home, and the struggles to raise a
young family…this was my new reality!
ARE YOU READY FOR THE ADVENTURE OF YOUR LIFE?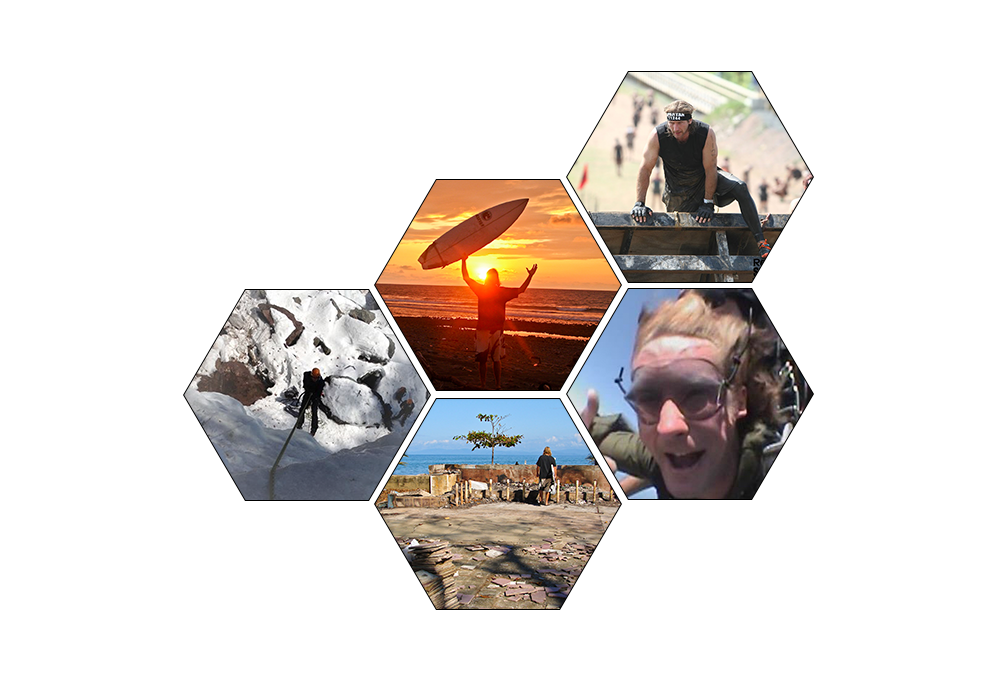 WARNING:

THIS GROUP IS NOT FOR THE FAINT OF HEART! IF YOU ARE NOT WILLING TO DO THE WORK,

PLEASE DO NOT JOIN THIS EXCLUSIVE MEMBERSHIP.
Are you wanting to make a career transition that is beyond fulfilling, but struggling to focus and are feeling overwhelmed in the process?
Do you struggle to find the time to do it all while balancing your passions, family, career, and health?
Have you been procrastinating for way too long and are ready to unleash your greatest potential and pursue your dreams?
Are you looking for a group of like-minded adventure seekers to share the journey with and epic experiences along the way?
Is it time for you to step into the life you know you were born to live?
ARE ALWAYS LOOKING FOR THAT NEXT ADVENTURE AND AMAZING PEOPLE TO SHARE THEM WITH.
I spend nearly a decade in a career that was misaligned putting off my dreams for another day.  I found myself sitting at my desk asking myself, "how in the world did I end up here?" 
As an adventure seeker, this wasn't where I wanted to be forever and I knew there had to be another way. So I learned how to leverage the power of adventure to unleash my greatest potential and relentlessly pursue my dreams.
Here's what I discovered:
First, there are Exactly 5 Challenges that help you gain the Courage, Confidence, and Commitment to transform Your life. 
Second, I was a burnt-out banker. If I can do it…

 

There's no one out there that can't do what I've done.
After launching The 5 Challenges book and online program, clients were telling me they experienced more focus, flow, and freedom in their lives than ever before.
I knew that I needed to help more people and we needed to build something amazing.
We needed to provide a community, challenges, and resources to unleash people's potential.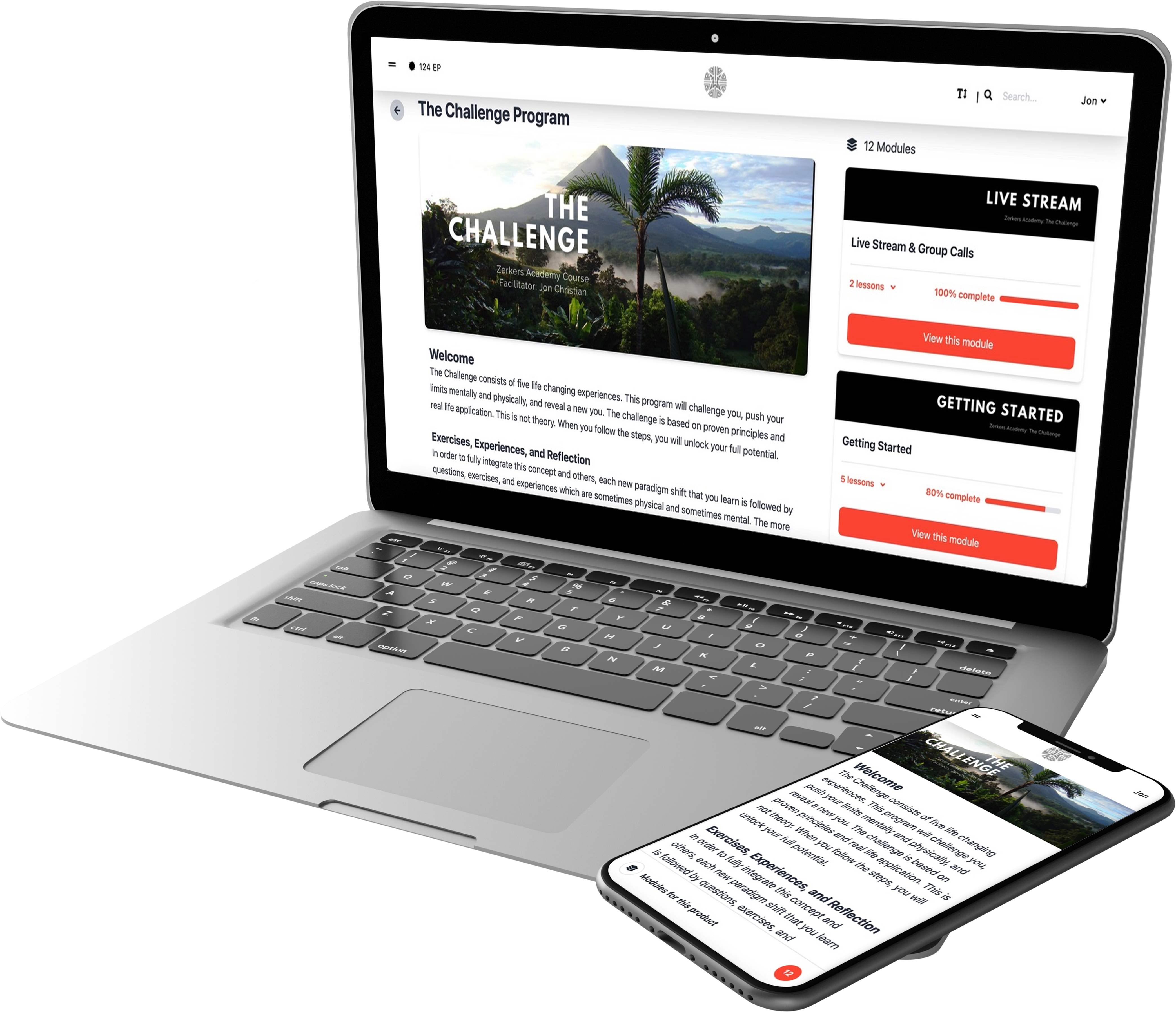 It's called Underground Warriors and it's a community, unlike anything you've ever seen because it's more of an "Academy" to gain the courage, confidence, and commitment to relentlessly pursue your dreams than a traditional education system.
We show you exactly what to do, how to do it, and why. Plus, you will have direct access to me in real-time. This experience is going to show you exactly how to unleash your potential by giving the action steps and resources – because you're not just buying a course.
IF YOU

WANT
 

TO
Relentlessly pursue your dreams
Connect with like-minded adventure seekers
Transition careers or start a business
Live an epic adventurous life
Push yourself outside of your comfort zone
Make an impact in the world
This course is
for you.
YOU'RE NOT JUST INVESTING IN MORE SELF-HELP.
YOU'RE INVESTING IN
ACCESS
HERE'S JUST A FRACTION OF WHAT'S INSIDE THIS EXCLUSIVE MEMBERSHIP AND WHAT IT MIGHT MEAN FOR YOUR LIFE:
The Full 5 Challenges Course
At just 5 modules, you can work your way right through it.
And you'll immediately "get" the entire methodology I used to relentlessly pursue my dreams and learned from some of the most influential people on the planet.
Insider Access and Real-Time Updates
Inside of the membership area, we are actively updating the content and adding new videos, courses, worksheets and breaking down what is working for us right now and what we see coming around the corner.
Exclusive Underground Warriors Member
Members get an exclusive private Facebook community where they can network, mastermind, and connect with other adventure seekers. Plus, me and my friends are in there to support you.
Live Video Interaction
Once a month I will be hosting live zoom calls for Underground Warrior members only. Have questions? Want to ask me personally? This is your chance.
Ongoing Video and Resource Library
Underground Warriors members will get access to all call recordings, Q&A sessions, and additional resources we use to unleash your potential and relentlessly pursue your dreams.
ZERKERS EVENTS HAVE LIMITED AVAILABILITY AND AS A MEMBER OF UNDERGROUND WARRIORS YOU WILL BE THE FIRST TO GET

AN INVITATION!
Basically, I'm committed to delivering the ongoing guidance and support you need to unleash your
greatest potential
Challenge I: Gain the clarity in your life that most strive for, but few achieve! With clarity comes direction and aspiration, which leads to exponential momentum. 
Challenge IV: B
egin to experience more clarity and focus on ways to make your big life list a reality.
Challenge II:
Wake up every day knowing that your actions match what you are committed to creating in your life.
Challenge V: Begin to feel fulfillment from the present instead of seeking it in the past or future, you will ground yourself in current realities. You will start to allow yourself to take steps towards your future of unlimited reality.
Challenge III: U
nderstand your Why and begin to feel more fully aligned and be able to more easily make hard decisions and choices in life.
Assessment: The Conscious Human Performance Assessment® is a model of both conscious evolution and human performance which helps us understand and awaken human potential.
AN ADVANCED SYSTEM FOR OVERCOMING FEAR AND GETTING 

RELENTLESSLY FOCUSED
Getting focused is not as complicated or difficult as everyone seems to be making it seem.
Step 01
Make it a priority to block out the first 90 minutes of your day for yourself, to work on your dreams and your  future.
Step 02
Get out of bed each day with a sense of purpose and know what you will be working on that day before the day starts.
Step 03
Focus on one task at a time instead of juggling multiple projects both in your mind and during the day? 
Most people say the first step is the hardest.
Block out 90 minutes of your day to work on your dreams.
That is the easy part.
But how jump out of bed with purpose and balance your work, family, and health… day after day?
THERE'S A

SYSTEM

FOR IT.
And when you become an Underground Warrior Member, you're going to get that entire system laid out for you step by step.
You will get a place to keep notes, record progress, keep track of what you've done, and more importantly, what you need to do next.
And if you get stuck, you'll have me and my team right there with you for support.
IF YOU

WANT
 

TO
Relentlessly pursue your dreams
Connect with like-minded adventure seekers
Transition careers or start a business
Live an epic adventurous life
Push yourself outside of your comfort zone
Make an impact in the world
This course is
for you.
YOU'RE NOT JUST INVESTING IN MORE SELF-HELP.
We covered a lot of ground during our sessions and I was surprised and very happy with our coaching. As far as the value of our time together, it was an 8-9... It's hard to get a 10 out of someone like me. I really enjoyed the sessions and gained valuable insight. Here is a quote that is written on the wall inside the SEAL training compound where students PT it's one of my favorites "The only easy day was yesterday". I look forward to our next session.
Mike V., Navy Seal, Naval Special Warfare Development Group (NSWDG), commonly known as DEVGRU (DEVelopment GRoUp) or SEAL Team Six.
These challenges will push you to your limits, but you'll have a great time in the process. Zerkers is all about living life to the fullest. All are welcome. Just bring ur heart.
Bryon H, Vice President
Zerkers community and adventure challenges have created a positive impact on my life and have challenged me to pursue my passion and push my limits. Things I one thought were unattainable have become realities in my life. I am inspired and motivated to continue the journey to live life to the fullest. I now know anything is possible and I'm ready for any challenge life throws my way.
Jill V, Owner
I cannot tell you how much weight has been lifted off of my shoulders and how powerful it feels to be reconnected with the deep feeling of why coaching is so attractive to me. I have been doing quite a bit of thinking and I'm really excited for our session.
Lauren T, Professional Health and Wellness Coach
Gracias a todos por ayudarnos! Yard clean up, parking lot, chicken coop (monkey proof), compost bins and friends!
Pura Vida Church, Costa Rica
I think this experience has changed me. I just became so happy, positive, and I feel so great since the trip! Thank you so much for inviting me on this amazing trip!
Amanda K, Project Administrator
As a partner on our Costa Rica Humanitarian Engineering trip/course, we found Zerkers to be reliable and well organized and their local expertise greatly improved the experience for the students and helped alleviate the logistical issues.
Aaron B, M.S., MET Coordinator – MSU, Denver
What Game Changing Leaders Say
By conquering your fear you cross over into doing what makes you feel really alive and really good and when you work on this you become really aware.
Nice shirt Joe, It looks like great minds think alike. Yes, they do. 
I love your Quantified Calling - and we at RECODE believe the same - that the world badly needs a quantum leap in thinking and experiencing ourselves in a more profound and connected place. We are on that same mission together. We also believe it is people who impact people. I love your mission and support you 100%!
Once you get it, It's like taking the red pill or blue pill, I always appreciate your zest for everything you do!
Your ability to be comfortable in the discomfort and go towards that instead of running away is one of THE most transformative things you can do.
You'll need a helmet and diapers to follow this path. A helmet to break through walls, and a diaper to clean up your sh**." 
Questions? Please fill out the form and we'll get back to you within 24 hours.